Hi, I'm Ms Sian and I am so excited to be joining MNS-Dhahran after the summer holiday!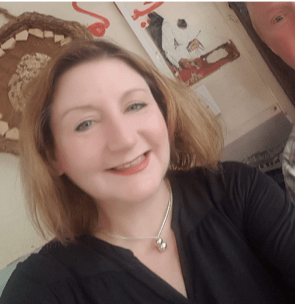 Here's a little about me:
I've taught in Bahrain for 6 years and before that I was a teacher in the UK. I'm lucky that I've taught so many ages (from 4 to 18 – and adults too!), subjects (English, Drama, RE, French and PE) and abilities (I've taught in selective grammar schools as well as Special Needs schools and everything in between).
A few years ago, I completed a research paper at Oxford University which was titled "A Kinaesthetic Approach to Teaching Special Needs Students" and my style of teaching all abilities is very much kinaesthetic – which involves DOING STUFF! My favourite lessons involve creating, making, using manipulatives, acting and role-play and I truly believe that this helps students retain far more information that if they were simply sitting at a desk. A lot of educational experts who know far more than me believe it too….
Nothing makes me happier than to see students enjoying and being totally engrossed in a lesson whilst also reaching their targets.
Wearing my Drama teacher hat, I have directed plays, musicals and organised whole school festivals. I've also directed quite a few adult drama productions too but there is nothing to beat the teamwork, excitement and sense of achievement of putting on a school play. Outside of school, I enjoy reading (and if you don't like reading, you might be reading the wrong books). I also love love love going to the theatre (Drama hat again) and exploring different cultures when I'm travelling. I'm looking forward to getting to know Saudi Arabia – and all of you at MNS-Dhahran.